HAWAIIAN COAT OF ARMS
&
UA MAU KE EA O KA AINA I KA PONO
Although adopted as our state motto in May of 1959, these immortal words were first given to the Hawaiian Kingdom in 1843, by King Kamehameha III after the return of independence to the Hawaiian flag from British rule. The official translation? "The Life of the Land is Preserved in Righteousness".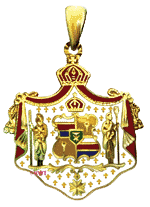 The Hawaii Kingdom Coat of Arms, designed by native Hawaiian Timothy Haalilio, was adopted as the official coat-of-arms in 1845. At the very center is the triangular flag of ancient Hawaiian Chiefs, a symbol for kapu and place of refuge consisting of pulo'ulo'u and crossed spears on flag. The kapu, a tapa covered ball on a stick, was carried before a Chief as a symbol of taboo. It was an emblem of the ultimate authority and protection for those seeking refuge. This triangular flag, or puwalu, represents a flag raised at sea above the sail of the chief's canoe and symbolized the Law of the Splintered Paddle or Mamala Hoe Kanawai decreed by Kamehameha I, circa 1782, to protect travelers from wanton attack.
The first and fourth quarters of the center seal contain white, red, and blue stripes, alternating in color for the national banner and believed to represent the eight largest islands in the Hawaiian chain. The second and third quarters contain a
kapu
; the tapa covered ball and stick.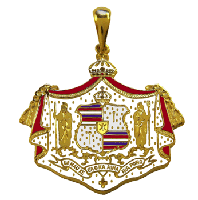 Above the royal center seal is a crown, on the left, Hawaiian Chief Kamanawa, wearing a feather cloak and helmet, bearing a spear, and on the right, Hawaiian Chief Kameeiamoku, in the same dress but bearing a kahili. Both face inward toward the Royal Seal. The two figures are thought to represent the warrior twins instrumental in Kamehameha I endeavors to unite the Hawaiian Islands. All this rest atop the ribbon banner containing the mottoUA MAU KE EA O KA AINA I KA PONO. This entire design is encased by a feathered cape background.
Several changes were made to the original design during King Kalakaua's reign. This is when the second crown was added to the top of the feathered cape background, which itself was changed to an ermine cape. The two figures were faced outwards and a cross placed under the motto.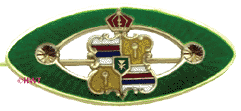 Although unsure these changes were official, the new design was evidenced in use by Kalakaua and Queen Liliuokalani by its use on Official Palace invitations.
During the reign of King Kamehameha III and King Kalakaua, the Royal Coat of Arms was a strong symbol to assert the sovereignty of the crown and to reaffirm the spirit of the Kingdom. It adorns the iron gates and fencing at the Hulihea Palace, the Royal Mausoleum and the Iolani Palace to honor the great Kings and Queens of the Hawaiian monarchy. Hawaii¹s most precious heirloom jewelry.
Centennial Jubilee Royal Crest," as it appeared on coronation letterhead."
For more information read Coat of Arms.

Sources: Book
Hawaiian Money
By: Donald Medcalf Author
Ronald Russell Co-Author